Certified Personal Chef Service
ServSafe Certificate Number 232368
For more information on personal chef services, please visit www.uspca.com.
For more information on L'Academie de Cuisine, please visit www.lacademie.com.
International Food Safety Council, ServSafe Certificate Number 2323680
Although catering is not my primary
business, I am pleased to offer clients
my expertise for special dinner parties
and festive occasions.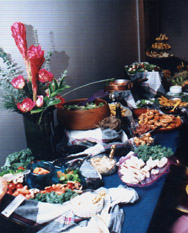 About The Chef

I have a passion for good food. Nothing pleases me more than cooking for someone who appreciates eating well. In 1998 I decided to leave corporate America and pursue my passion . . . cooking. As a Certified Personal Chef and member of the United States Personal Chef Association (USPCA) I have made a rapid start in the food world in the DC metro area. Cooking is done on-site, which helps assure the fresh quality of your meals. All menu planning is done to client specifications, and shopping and clean-up are included in the price.

I have done my homework. Attending L'Academie de Cuisine was one of the best educational moves of my career. Studying under Pascal Dionot I learned everything from how to properly cook an egg to great presentation ideas when serving fresh spring rolls. I also realize the value of continuing education and participate in seminars, classes and demonstrations as often as possible. The highlight of my continuing education experience was attending a session at Le Cordon Bleu, Paris. While the chef spoke in French with the aid of an interpreter, it was clear that the language of food is truly universal.

Your health and food happiness is my top priority. In addition to completing the ServSafe certification course, I have also taken classes in nutrition and read extensively on food needs for special diets. If you need custom menu planing not offered by the frozen food section and the take-out menu selections, you came to the right place.

Thanks for stopping by, please enjoy the rest of your web visit. We look forward to hearing from you soon. --Sylvia Saliunas

Sylvia at a Street Market in Paris 2002.

Sylvia with Alton Brown at the 2003 Chef's Conference in Kansas City.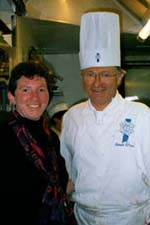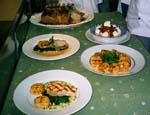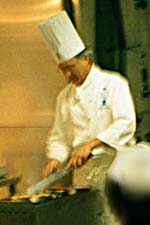 Sylvia at Le Cordon Bleu, Paris with Chef Patrick Terrien 2002.